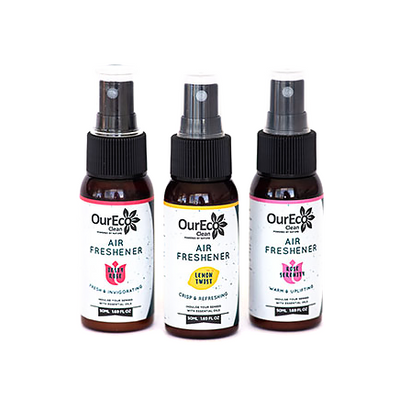 Mini Air Freshener
$7.99
With an invigorating blend of 100% essential oils and water, these mini air fresheners allow Mother Nature to work with you, by refreshing your home and indulging your senses.
Simply shake the bottle, then spray away from your face into the air of any room in need of spritzing as often as required. Ideal for the bathrooms, toilets, kitchens and your office.
Choose from the following scents:
Ocean Voyage - This Fun and Carefree blend was designed to capture the essence of the sea. Specifically chosen essential oils work harmoniously together to heighten your senses and enrich your soul.
Sugar and Spice - The sweet Citrus of Orange combines effortlessly with Cinnamon, and oozes the warmth of family togetherness.
Lazy Days - Spray the stress of the day away, unwind and submerge yourself, into hues of French Lavender and Lemongrass.
Rose Serenity - Delicate as a Rose yet with the depth of Patchouli, the musky undertones generate the perfect balance of warmth and love.
Zesty Rose - Bursting with Rose Geranium and smoothly balanced with Lemon Myrtle, we created a fresh, invigorating sweet burst of citrus and floral, to indulge your senses at the start of the day.
Lemon Twist - Bold and Crisp, this gorgeous marriage of Lemon Myrtle entwined with Spearmint is the perfect way to re-energise and invigorate your mind throughout the day.
Perfect as a gift or keep one for yourself and pop in your handbag or car for when you need to freshen up the air around you. Not only are they environmentally friendly, they are also great for lifting your mood and energising your mind. Bottle size = 50ml.
Health matters. They care about people, animals and the planet we share. EcoClean promotes a healthy environment & sustainable planet using Mother Nature's gifts. They are continuously innovating to bring you products that are safe, natural and effective.
They want to work with you to create toxic free homes and workplaces, that in turn help to remove harsh chemicals from our waterways and protect our environment and wildlife.
SKU: 10000-36