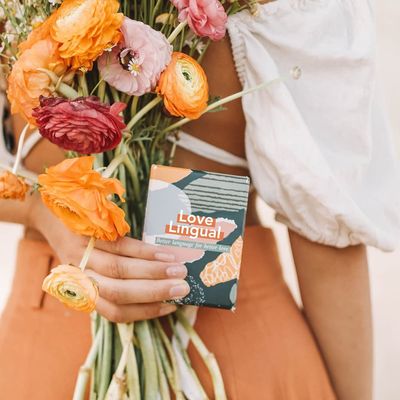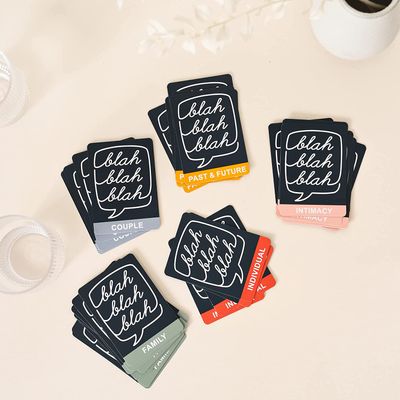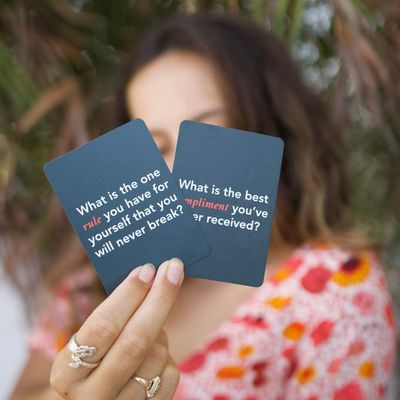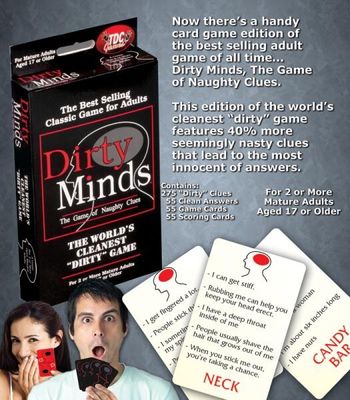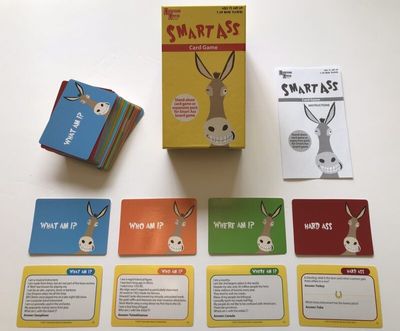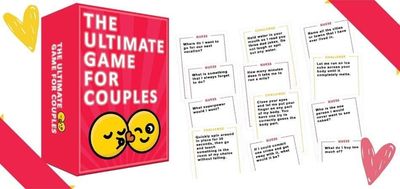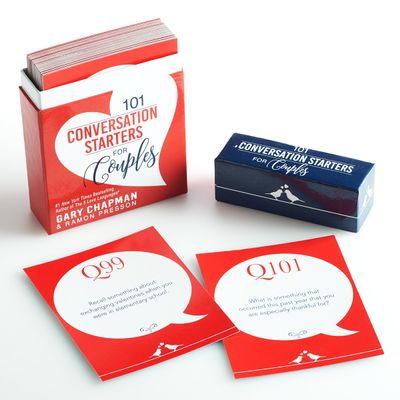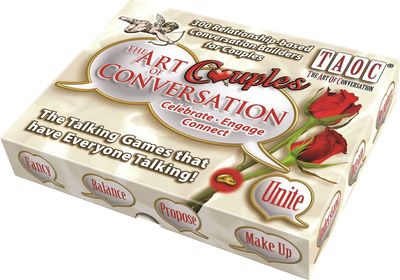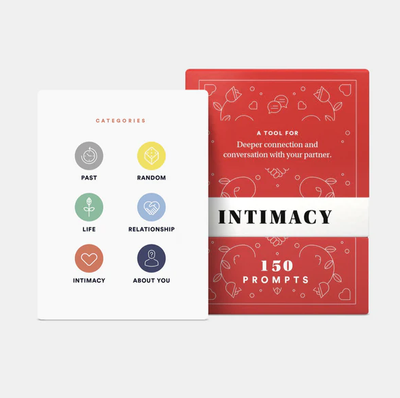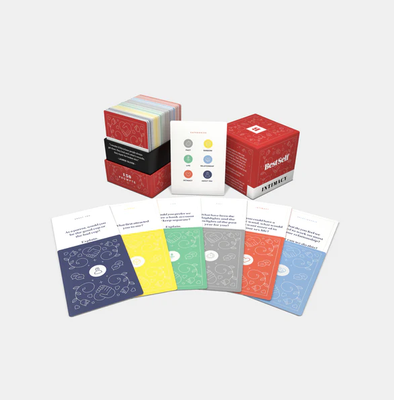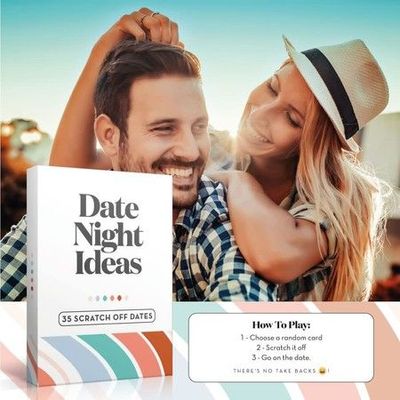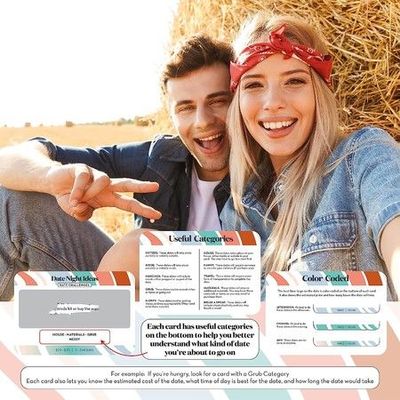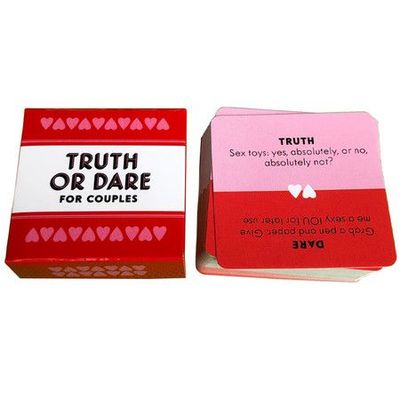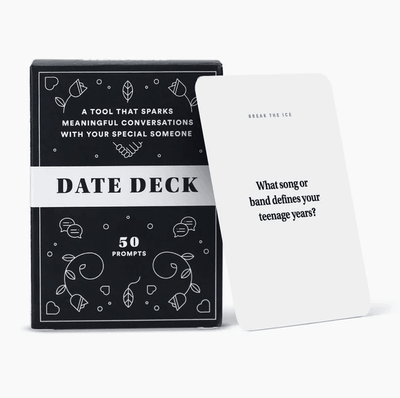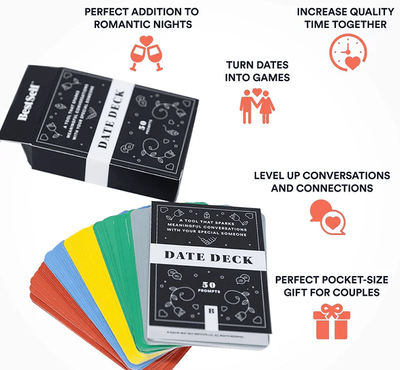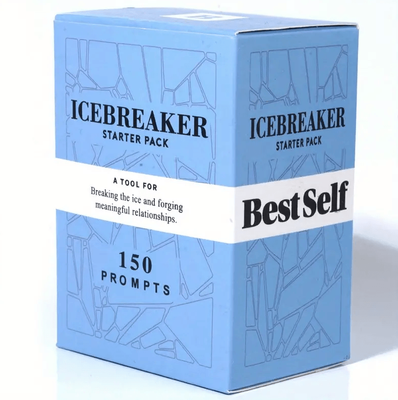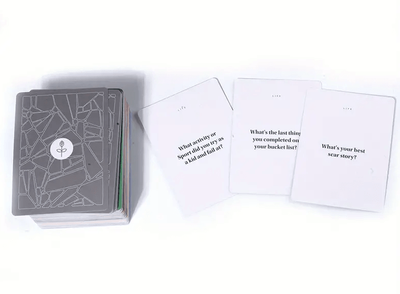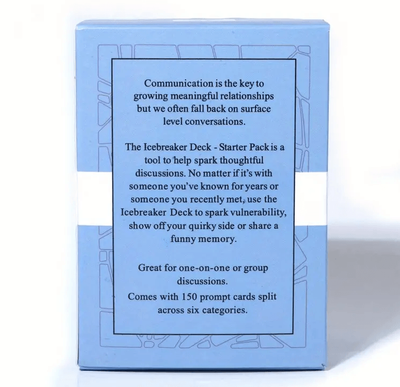 Card Games for Couples
$29.00
These card games have been chosen to help couples connect and communicate with each other and are a fun activity to do on your next Date Night or Romantic Getaway. They can also be played in groups and are ideal for special occasions including Bachelor and Bachelorette parties too.
Love Language Card Game
HUMAN CONNECTION IN THE DIGITAL AGE: Whether you just started dating or have been married for 20 years, The Love Lingual has been designed to bring you and your significant other closer than ever. How? By asking the right questions. It's never too soon or too late to start talking to each other!
MULTIPLE CARD, MULTIPLE TOPICS (150 CARDS): Our cards are divided into 5 categories to make sure every topic of life is covered: Family, Intimacy, Couple, Individual, and Past & Future. You can either focus on one category you want to deepen with your partner, or mix them all.
INSPIRED BY COUPLES PSYCHOLOGISTS: Intimacy between two strangers can be accelerated by having them ask each other a specific series of personal questions. Our questions are specifically designed to create powerful and fun conversations with the people you love. Pick a card, read the question and start (re)discovering your significant other!
PERFECT GIFT IDEA: Perfect for your own enjoyment, or as a thoughtful gift for multiple occasions - newlyweds or engaged couples, anniversaries, bridal showers, Valentine's Day, etc. Also great for marriage counseling or therapy.
The Art of Couples Conversation
The perfect way for couples of all ages and stages to delight in each other's company as they reach a deeper and closer understanding of each other, themselves and their relationship.
Discover and rediscover, refresh and revitalise, laugh and love. Celebrate both differences and things in common while connecting and reconnecting in a multitude of new ways.
Extensively researched and developed to grow relationship resilience and longevity. Professionally accepted as a resource for use in therapy and education,
Helps partners of all ages and stages connect and reconnect lovingly and respectfully, even when the subject may be a difficult one. Through guided and reflective communications, couples are encouraged to enjoy each other's company through communication.
The Ultimate Game For Couples
TWO GAME CHOICES - Connect one-on-one with your partner or play together with other couples in two different gameplays.
QUALITY TIME WITH YOUR PARTNER - Get to know each other better as you dive into meaningful conversations and perform funny challenges - perfect for date night.
COMPETE AGAINST OTHER COUPLES - Team up with your partner and play with other couples to see who really knows each other best.
BUILD DEEPER CONNECTIONS - The simple gameplay and easy rules allows you to quickly engage with each other.
REPLAY VALUE - 200 playing cards guarantees hours of replayability. Perfect gift for him and her - makes a great wedding, newlywed or anniversary gift.
Dirty Minds Card Game
Dirty Minds Card Game: This card game edition of the most popular party game of all time contains all new material and more clues per question to keep you and your friends laughing for hours!
Dirty Minds is considered the world's cleanest 'dirty' game because highly suggestive clues lead to only the squeakiest clean answers.
Age: Open minded adults
Number of players: 2 to 6 players
Contains: 280 naughty clues, 56 clean answers, 56 game cards
Smart Ass Card Game
Who's the Smart Ass among your friends and family? Find out with this outrageous, fast-paced party game! This is the game for players who have been bursting to scream out the answer even when it's not their turn.
Each question has eight clues - the first player to yell out the correct answer wins the round and takes a step closer to being the ultimate "Smart Ass". This is the ultimate trivia game for those who think they know it all!
The game where it's OK to yell out the answer even when it's not your turn. Be the first to answer the Who, What, and Where Am I questions, and move closer to being the ultimate Smart Ass
Contains 105 questions and instructions
For 2 or more players
Suitable for ages 12+
101 Conversation Starters for Couples
101 Conversation starters for Couples is the brainchild of marriage expert Gary Chapman, author of The 5 Love Languages, and Ramon Presson.
These conversation starter cards are based on Christian values and can be enjoyed over dinner, on date night, or any time you would like to dig a little deeper.
Two cute lovebirds grace the front of the blue lid. The cards are colored red on one side and blue on the other to add structure to the process and prevent repeats.
Some sample questions include: describe or favorite childhood vacation; what is your favorite animated film? What was your least favorite subject in school; who is the most joyful person you know and many more.
With 101 probing questions, couples will find their relationship enhanced, their intimacy deepened, and their romance ignited.
101 Conversation Starters for Couples is the perfect companion to the bestselling book, The 5 Love Languages. They also make an excellent Valentines Day, wedding, and anniversary gift to help you and your spouse get the conversation flowing.
The Intimacy Deck for Couples
Spice up date nights, dinners, road trips, or weekends away and grow closer with 6 categories for more meaningful and vulnerable conversations with your partner.
Each deck includes 150 questions, to get you talking about the past, life in general, your relationship, feelings of intimacy, and yourselves as individuals. There's an additional "random" category that covers all the rest.
Take time to talk, connect, and actively listen on a more personal level. Not just about your day or that annoying guy at work. Rather, about your hopes and dreams, your past, and what you want to manifest together moving forward.
Date Night Ideas
35 fun and exciting date challenges and 2 scratchers for easy scratching. Once you scratch a card, you have to complete the date challenge no matter what. There are no setbacks, so be sure to look at the helpful categories on the cards to help you better understand what kind of date you're in for. Ready to go on fun, adventurous, fun dates?
One of the best couple challenge games out there. Whether you've just started dating, or have been in a relationship or married for over 10 years, the date ideas in this deck of cards are guaranteed to be unique and provide date fun you've never tried. Fall in love with your partner all over again with these date night cards. It is a perfect anniversary gift for couples.
Truth or Dare for Couples
Playful and provocative, these cards are meant to inspire conversations, laughs, and maybe more with your special someone.
Take turns picking cards and asking your partner to choose "Truth or Dare?" Skip the tough ones if you want but where's the fun in that?
Features 50 naughty truths and 50 challenging dares, perfect for couples looking for delectable after-dinner fun!
Date Deck
Take the pressure off date night with 50 conversation starters created to help you get to know each other better.
Play the Date Deck Game. Choose a category, answer questions, and collect points!
Explore five question categories for exciting, engaging conversations.
Get beyond small talk with ease.
Pocket-sized for taking out and about.
A fun way to strengthen your relationship and talk about what matters so you can grow together.
Icebreaker
A perfect gift for professional and personal relationship growth.
Move beyond small talk and improve your network skills.
Helps to increase and improve quality time and communication with others.
Perfect tool for meaningful conversations and deeper relationships.
Invigorating existing relationships and create new opportunities.
These cards are all available in our medium and large gift boxes as well.
SKU: 10000-32